Guess what was on last night? The season premiere of True Blood! My husband and I sipped our O positive Tru Blood blood orange beverage while we watched our favorite show. It was fangtastic!
A few weeks ago I attended the True Blood Ultimate Fan Experience with my mother-in-law and hubby's aunt Beth. We are fans of True Blood on Facebook and registered to receive passes to the event. The fan experience was at 11pm on June 1 across the USA in fifty cities. A late night event, but we are Truebies so we were giddy to go. We arrived at the movie theater and received a free pop (my choice, Coke of course), bought some popcorn, walked the red carpet, and sat in the packed theater to view the finale of True Blood Season Two. Then there was a live via satellite Question/Answer session with the cast. When we left we all got a free swag bag.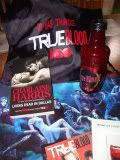 I didn't get home til 2am! But it was worth the yawning the next day. Very cool HBO offered that for the fans!
Since I've been a lucky winner in so many generous blog contests (my latest, thank you to
Candace Granger
for the $25 Amazon gift certificate, and you must check out to see who's dancing at
Carol's Prints
for her recent contest), I've decided to hold another contest here - True Blood style!
CONTEST! CONTEST! CONTEST!

You can win not one, not two, but three of the books that the True Blood HBO series is based on. I am giving away the first three books in the Sookie Stackhouse series by Charlaine Harris. Each season of True Blood is based on a book in the series. They also add lots of awesome plots on their own as well in the series. All you need to do to be entered in the contest is be a follower and tell me your favorite vampire (literary, movie, TV, whatever!).
WIN THIS!
Speaking of vampires (you know I love them), my mom, sister and I went to Printer's Row Lit Fest in Chicago yesterday. I met Norm Cowie, author of YA book
Fang Face
. I bought the book and am looking forward to reading it. If it's anything like Norm, it is sure to be a hoot and a holler! Check out the
Fang Face website
!
Here's Norm, Fang Face, and me.
Contest closes at 10pm CST on Tuesday! Now, who's your favorite vamp? Can anyone guess mine?