Matthew McNish
and
Alex Cavanaugh
(the King of Blogfests) are partying Pay It Forward style today. Click on their names to find almost 200 links to those participating. I'm looking forward to checking out some cool new blogs today.
So, which blogs do I want you to check out?


First, I want to give props a few rock star blogs that you probably know. If you don't, click and follow.
Elana Johnson
- Informative, friendly posts. Elana is so generous with her time, and she is the Query Queen. And the author of
Possession
.
Here are some blogs you may or may not be following but absolutely should! Seriously. Follow them. Or I'll scream Motley Crue songs in your ear until you do.
1.
CAROLINA VALDEZ MILLER
- I have never read more exquisite book reviews than at her blog. She could sell a book about a wombat/laundry basket/Jared Leto love triangle with her perfectly worded, vivid reviews. She is very generous with book giveaways. And she's fun! She was my concert buddy to a 30 Seconds to Mars Blood Ball. Did you hear she's going to Haiti soon? What a woman!
2.
CHRIS PHILLIPS
- Funniest guy in the blogosphere. He makes me laugh every time. Unless he's making me tear up with his poetry. The man has talent, yo.
3.
THE PRACTICE ROOM
- Tina and crew set up times each week day to write and then reconvene in a chat room to discuss your writing progress or whatever else is on your mind. This is a great motivator, and also a great resource for moral support! (And of course some laughs are interspersed in between the encouraging words!)
Special Bonus Recommendation:
Did you know this talented artist had a blog? Adam shares sneak peeks of
his illustrations
or random photos of
pigeons on his porch
or even
pictures of himself in a dress
. Did you know he was my all time
favorite author
? The man writes picture books, poetry, middle grade AND young adult. And he's an extremely talented illustrator. And quite witty. So check it out. And tell him his number one fangirl, Kelly, sent you.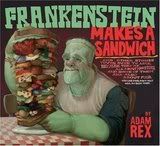 Lastly
(shameless plug alert),
check out my new blog
Book Recs of the Rock & Famous
! This week I have an alternative rocker and a funny lady sharing their current reads! Thanks, and have a most excellent weekend!