Today I am participating in a Possession Celebration Blog Hop hosted by
Nichole Giles
!
First of all, congratulations to the wonderful, generous, talented
Elana Johnson
on her book birthday for her debut young adult novel
POSSESSION
! And another congratulations to Elana, because the companion novel to
POSSESSION
recently sold! What a fabulous June you are having, my dear!
To celebrate, I am supposed to tell about a time I broke the rules. This is hard for me as I am a strict rule follower, law abider. I was a good kid. I'm a good adult. So, I will tell you about the first time I got a speeding ticket. (I've only had a few!)
I was in college and driving my friend Becky home from our summer jobs as Human Resources interns. The sun was shining, we were giggling as always on our way home with the radio blasting. I sang along loudly to the chorus of Queensryche's "Jet City Woman" as it played on THE BLAZE hair band radio station. And then I looked in the rear view mirror at the lights flashing behind me. My heart sank.
I looked nervously at Becky and pulled over to the side of the road. I knew I had been speeding. I wasn't paying attention.
As the officer approached my car, I hiked up my mini skirt to show some more leg as a last minute attempt to bat my eyelashes out of the ticket. But the tired looking, older gentleman asked for my license and registration anyway. As I waited nervously in the car, he returned with my very first speeding ticket. Crap!
I'm pretty sure I cried when I told my mom when I got home. I paid for the ticket myself with my summer job money. But I did the crime, so I paid the fine.
So that is my rule breaking story that my long, tan legs didn't get me out of. Nothing exciting, but definitely a moment I'll always remember!!
Were you a troublemaker?? :)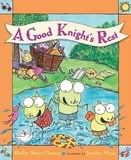 I also want to give another book birthday shout out to Shelley Moore Thomas! Her picture book
A Good Knight's Rest
is released today, too!! Congrats, Shelley!
Today's Tune for Tuesday is "Breaking the Law" by Judas Priest. I loved when James sang with them on the Idol finale! Also random fact about me: I yell, "Judas Priest" like a curse word! (My grandma used to, too.)