Lake Geneva is a popular resort town in southern Wisconsin. My husband's family rented two pontoon boats on Monday, and we had a fine day boating on Geneva Lake. We enjoyed looking at all the big, beautiful homes and all the gorgeous trees lining the lake. When I was younger, I would go boating with my best friend and her parents. Besides sunbathing, my friend and I would always say, "Which house do you like? This one or this one?" to pass the time on the boat.
Here are some of the fabulous, ginormous homes on Geneva Lake.
So do you like this one or that one?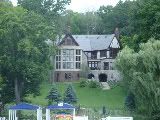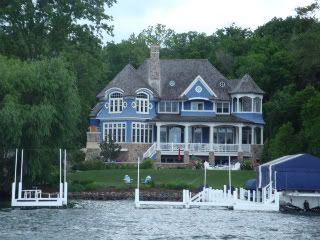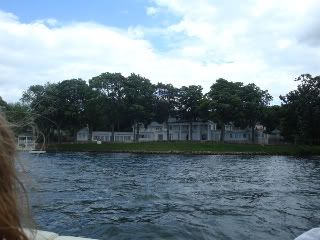 Here are some fun facts about Lake Geneva.
*Producers/creators William Bell and Lee Phillips developed the soap opera "The Young and the Restless" while living in Lake Geneva. The soap opera is set in the nearby town of Genoa City. As I have been watching this soap opera since I was eleven, I get a kick out of hearing nearby towns occasionally being mentioned in the show.
*Hugh Hefner's famous Playboy Club and Resort was in Lake Geneva. It is now called Grand Geneva Resort and Spa. My hubby and I have stayed there for our anniversary a few times. The bunnies are long gone though.
*Geneva Lake is the second deepest lake in Wisconsin. (Can you believe I let my two oldest kids swim off the boat?! Don't worry, they had life preservers on!)
*At different areas at the bottom of this lake you would find a Volkswagen, a cabin cruiser, and a few other sizable ship wrecks.
*The popular Dungeons and Dragons game was founded in Lake Geneva.
*There is a 20.6 mile trail around the lake that goes through the yards of the mansions. I would love to take a shoreline walk on it someday!
Lake Geneva also has quaint shops and galleries to look through and of course a wonderful ice cream shop that we visited. The people are nice, too! I put two quarters in the parking meter and then realized I payed for someone else's spot. I remarked I was out of quarters and a nice lady came by and gave me some!
Where will you be visiting this summer?