I'm thrilled to share my blog today with author Samuel Park.
Samuel is the author of
THIS BURNS MY HEART
, which was chosen as one of Amazon's Best Books of 2011, a People magazine "Great Reads in Fiction," and one of the Today Show's "Favorite Things." I read this book late into the night this weekend to finish it. I seriously could not put it down. An incredible story and so beautifully written.
Amazing, right? His novel is also the Starbucks Bookish Reading Club selection for this week. This promotion allows Starbucks customers to read the book for free when signed into the Starbucks Digital Network at the stores. Nothing better than Starbucks AND a great book!
CRITIQUE PARTNERS
Sam is here to share some fun insight about critique partners!
Everyone knows how important a part of the process revision is—in some ways, that's when the book actually comes together. And since it's almost impossible to revise in the dark, everyone needs feedback from their writing teachers, writing group, or even their romantic partners. Here is my breakdown of the kinds of critics that writers often run into at this early stage:

LOVEY-DOVEY LAURA—this is the person in your writing circle who loves everything you write and usually offers very little to no feedback. It may be that she's afraid of offending you, or values your friendship too much to risk being critical. Now, before you dismiss Lovey-dovey Laura and give her seat to someone else, I'd argue that she plays an essential purpose: she helps you rebuild your ego, keep faith in the manuscript, and she may be a valuable anti-dote to the next:

DESTROYER DEBBIE—Ah, this is a common one! Destroyer Debbie really doesn't like your WIP. I mean, she really doesn't. And she wants to make sure that you know that. And the better it is, the more threatened she feels and the more critical she becomes. The only manuscripts she likes are the really bad ones, so she can feel superior to them, and doesn't have her own sense of self-importance destabilized. If you have a Destroyer Debbie in your writer's group or your MFA class, better show up at the meetings with a shot of tequila in your purse. You may need it!

SCHOLARLY SUSAN—This is the one who was usually an English major back in the day and loves to find the themes and symbols in your work. One really helpful thing she'll do is let you know what your story is about. That is actually very helpful, in the sense that it allows you to play that up (ideally, in an organic way) as you revise. Scholarly Susans, though, are tricky because they respond mostly intellectually, and you want an emotional response.

NARCISSISTIC NANCY—This is the partner who likes the parts of your manuscript that are the most like hers. She sees everything through the lens of her own work, and can't really engage with your WIP on its own terms. If you make a choice that she disagrees with, however good that choice is, she won't like it. But if you write the way she does, using similar style, or with similar characters, she will be your biggest fan!

EDITORIAL EDGAR—This is the partner who's really more interested in being a copy-editor than a writer. He's brilliant at correcting your usage mistakes, pointing out grammar errors, or checking your spelling. He is very useful in that way (free copy-editing, who doesn't love that?), but just remember not to expect more substantial feedback, or you'll be disappointed.

And now, this is the one partner you want:
CONSTRUCTIVE CAROL—This is the critique partner who spots the flaws in your manuscript, but addresses them in such a constructive, positive, kind way, that you don't even notice it's criticism. A lot of it is the tone in her voice (or in her notes), which shows that she really wants the best for you, and is rooting for you. (You can always tell when someone's irritated in their notes, can't you?) She's not threatened, because usually her own writing is so darn good. So she doesn't mind spreading the wealth. If you run into a Constructive Carol, hang on to her for dear life. Buy her cookies, give her a bottle of wine. They are rare! (And deep down, they know how lucky you are to have them in your life.) The best way to find a Constructive Carol, by the way, is to be one, and that will attract others like you.

Thanks, Sam! Critique partners are so vital to the ongoing process of perfecting your manuscript! Remember to use (or not use) your suggestions wisely depending on your type of critique!
BOOK GIVEAWAY!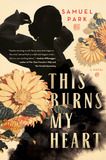 THIS BURNS MY HEART is set in South Korea in the '60s, and is about a young woman trapped in an unhappy marriage who is given one last chance at happiness. I am giving away one copy on my blog compliments of Sam and the publisher (open to U.S. residents only)! All you need to do is be a follower of my blog and tell me you want this book in the comments (and believe me, you do!), and you are entered! Contest closes on Thursday at 10pm central.
You can find Sam at
www.samuelpark.com
and on
Twitter.