Did you watch the Oscars? Angelina's right leg stole the show. Forget Tebowing. Now the new thing is Angelina Jolie'ing. See
here
for the goofiness. Plus her right leg is ending up in some crazy places (see here on
E!online
).
So, I'm going to start a new craze. Kelly Polark-ing which will be so much cooler than planking. What would be something that Kelly Polark would do? Tell me in the comments, and I'll pick a pose to start our own photo sensation! Because we should all take ourselves seriously, right? I'm sure it wasn't Angelina's intention to be mocked the following week. But any publicity is good publicity!
While I've got your attention I want to give a few shout outs to some worthy authors.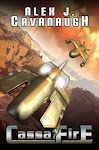 Congrats to sci-fi writer Alex Cavanaugh! His CASSAFIRE book release was yesterday! This King of Bloggers has a blog
tour that runs from February 27 through March 9. Anyone who comments on his
blog posts
during this time will be eligible to win a special package from his publisher: copy of CassaFire and CassaStar, a large tote bag, and a mug. Feel free to
spread the word about his out of this world news. Don't forget to use his Twitter hashtag #CatchFire.

Also, congrats to Rena Jones on the release of her third Critter series picture book. Check out PONY STRINGS AND CRITTER THINGS
here !
Now strike a pose, people, and have a great day!