Okay, now can I have a book contract? See
HERE
for why I look so ridonkulous!
Fine, I'll spray tan myself orange for a contract, but I will not go in that nasty bacteria filled hot tub with The Situation or with any other of Snooki's sloppy seconds.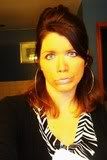 I'm just sayin'.
IN MORE IMPORTANT NEWS...
Critter is now
up for auction
! If you'd like this Ian Sands creation that has traveled the kidlitosphere (with multiple autographs), please bid! Proceeds go to St. Jude! Read more about Critter's travels at
Christy's blog
.